Our Specialist
Dr Richard Danylewick
Dr Richard Danylewick is a vascular surgeon certified with the Royal College of Physicians and Surgeons of Canada. He obtained his medical degree at the University of Sherbrooke and completed his residency in general surgery at McGill University. Following his fellowship in vascular surgery at the University of Montreal, he has worked at the CHRDL in Joliette, and at St Mary's and Jean Talon Hospitals in Montreal.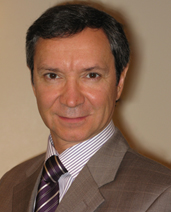 In 1998, he completed a preceptorship in venous disease at the Mayo Clinic in Rochester, Minnesota. Since then, his interest in the evaluation and treatment of venous disease has evolved and progressed with each development in this rapidly growing field of medicine called phlebology. Since the early 2000's, he has championed the use of ultrasound vein mapping prior to venous surgery which has led to the improvement of the technical results with surgical treatment. His skills also include techniques in sclerotherapy, using both surface and ultrasound-guided injections. In 2006, he began performing endovenous laser ablation treatments. For the past several years, his vascular practice has been entirely devoted to the treatment of venous disease.
Dr. Danylewick is a Diplomate of the American Board of Venous and Lymphatic Medicine and is a member of several medical societies including the Canadian Society of Phlebology, the American College of Phlebology, and the Association of Vascular Surgeons of Quebec. He is active in teaching and presents frequently at medical conferences. He is a clinical lecturer in the Department of Surgery , Faculty of Medicine , McGill University.
The Institute
At the Institute, the medical evaluation is performed by a member of the medical team specialized in the treatment of venous disease. A diagnosis is obtained using ultrasound to visualize and assess the superficial and deep venous systems. Based on this diagnosis, a treatment plan is determined and proposed, considering all the treatment options.